What is CustomJournal?
At the top of my journal I keep a list of my goals (Both for the week and more long term). I want to make sure I am reading my goals each day. Setting goals does not work well if you don't review them each day.
Tell me more about yourself.
My name is Jerry and I grew up in the San Francisco Bay Area. I worked professionally as a software engineer for about 10 years. For now I am an indie developer, building apps that I love and sharing it with the world. Building CustomJournal has been a joy and the positive feedback I've gotten makes all the hard work worth it.
How did you come up with CustomJournal?
CustomJournal was a "scratch my own itch" type project and I got the idea when I was traveling and needed a digital journal. I first heard of a structured morning journal from the Tim Ferris podcast. I started using the template but realized I wanted it to be a little more flexible. You can read an article I wrote about it here.
When is the iPhone version coming?
As an independent developer I really want to focus on one platform first. If you want to be notified or would be willing to help out as an early tester for an iPhone version, please sign up through the link on the main page.
How can I share a template with a friend?
On the Manage Template page there will be a menu option on the top right corner with the option to Share Template. Click that and select a method of sharing (email perhaps). Your friend needs to have CustomJournal installed. When they open it on their mobile device, they should choose to open it with the CustomJournal app and not their web browser. From there they will be able to save the template and start journaling with it right away.
How do I schedule a template (weekly, monthly)?
On the Edit Template page, there is a SCHEDULE tab right below the title bar. If you click this you get to the template scheduling menu. You can schedule a template to show on a daily, weekly, monthly or yearly basis. If a template is scheduled for the day, it will show up in a 'Scheduled Templates' section on the current day's entry to remind you to use that template. If you purchase Premium, you can also schedule a notification alert for each template.
How do I change the background image?
To change the background:
Click "Change background image" from the settings menu and choose an image.
A new window will pop up allowing you to crop the image. Just press "CROP" on the top right.
You will have to do this twice, once for vertical and once for horizontal. So just hit "CROP" again.
That's it. The image should be set as your background.
How do I add another template?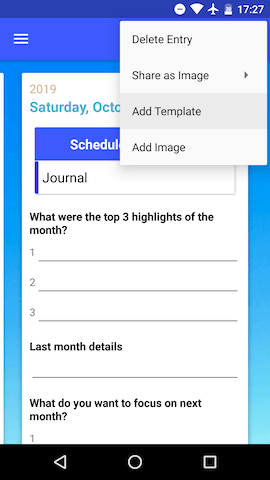 After you add a journal entry, a menu will appear in the top right. There is an option to Add Template
Where is my sync data located on Google Drive? (for premium users)
Google reserves a special app data folder for data created by an app. This prevents accidental deletion and added security. You can't see the data being stored in the app data folder. However, if you wanted to delete the sync file stored there you could:
Go to https://drive.google.com and login using the same Google account that you used to sync
Click on the gear Settings icon on the top right and select Settings from the menu
Click on 'Manage Apps' on the left side nav drawer
Select the Options button dropdown and it gives an option to delete the app data